I am pretty sure I have the "Wanderlust" bug! I wanted to try something different so I decided to try some texture paste on the cover. The matboard is tough enough to handle some texture paste. I used chalk paint and texture paste to decorate my cover instead of paper.
Cut the superstock paper to fir the journal, 8x8 scoring in the centre to create a page. I used oxides and stenciling to create a dynamic page.
Die cutting on pattern paper for some great elements. Love the brush and foam for those small dies Especially the Gearhead die!
See, all those little bits popped right out! More inking and layering for these pages. Making life easier with the
Creative Station
and these smaller detailed dies.
Lets make some trophy's! I coated them with hammered metal embossing powder and coloured some distress crayons to distress it.
I cut and inked the
Heart and Soul
flower with more pattern paper.
I love the
Ornate Frame #2
creating some great vintage elements for this journal.
Check out all the details on this page and how it all pulls together
Check it out! If you love to Journal check out how much inspiration you'll find in one spot... including a few from yours truly... THAT'S ME!
I MADE THE COVER...
Want more Journal Inspiration! The Journal Treasury is full of inspiration with 85 Journals created by some of your favourite designers including yours truly! Click the image to get your copy!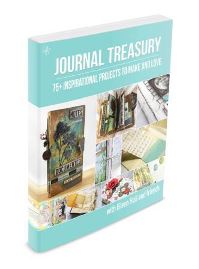 EAT. SLEEP. CRAFT. {repeat}